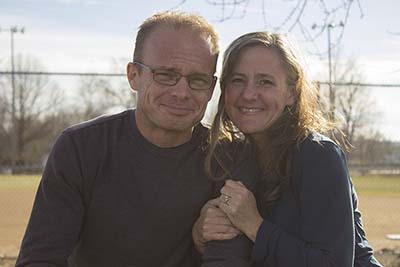 We would love to encourage families at your next event in any way that we can. We are available for speaking at churches, camps, and conventions in a variety of ways:
Speaking Options
Scott Speaking Solo

Preaching- Scott would love to encourage your church family on a Sunday Morning to let God's Word boldly lead each heart and home to Journey Up to that place where Truth meets Grace. You'll find that he has a passion for restoring the strength of the family, while offering compassion for today's broken family.

Men's Events- Scott loves to "Re-Courage" the heart of men and would be excited to speak at your next Men's Retreat or Men's Seminar. Scott is known for casting vision that is biblical, bold, and grace-filled. He will challenge men to stop playing in the "meadow" and choose to climb the "mountain." Drawing from his own journey as father to 12 children and over 25 years of ministry, he respects where men are, the challenges they face, and desires for them to experience the heights their Creator designed them for as men. Scott often requests to bring along at least one of his sons to assist him.
Scott & Kimberly Duo- After 25 years of marriage, they know how vital it is for couples to prioritize their marriage, even over those precious children. They would love to join your next Couple's Retreat or Seminar and encourage your couples to commit their marriage to going on their "journey up". A journey that will require them both to work the "3 Core Life Muscles" while depending daily on God's "Rope of Grace". They will introduce these concepts and practically illustrate from their own marriage how you put them into action in real marriages. Again, you will find them to be very real in their presentation style as they help couples see that every marriage has deep struggles and incredible potential.
The Entire Bryant Family- The Bryant Family is available to share at Family Retreats, Weekend seminars & Camps. They can provide speaking, special music, and worship leading as a family. Come be encouraged by a family that is on the same journey as you, while also igniting a passion to climb higher on your "journey up".
Speaking Topics
"The 7 Life-Muscles for The Journey Up of Learning & Living"

"The Journey Up-To Restore the Core of Your Heart & Home"

"The Journey Up-Finding That Place Where Truth Meets Grace"

"Restoring the Way of Womanhood/ Motherhood"

"Re-Couraging the Heart of Manhood/ Fatherhood"

The Journey Up- The Mountain of Marriage
Speaking Fees
As a ministry we are committed to making ourselves available as affordably as possible to you. If you are interested in having us speak at your next event, please feel free to contact us today.
Blessings to you and your family!